About the Program
3D Printing is one of the latest technologies in Industry 4.0 Like AI, Big data, Blockchain, Machine Learning, IoT, Etc. This technology is bringing new ways of manufacturing things. Almost all start-ups are utilizing 3D Printing Technology in one are other ways. Giant companies are utilizing 3D Printing in their product development segment. This technology has application from the Mechanical to the medical field everywhere. 
According to a recent survey, By the year 2022, there will be more than 32 million jobs will be available in this 3D Printing Technology. It means more than 3 Core 20 Lakh Jobs across the globe in 3D Printing Industries. As we all know 20 years ago, When the Computer Revolution started, millions of our young Technicians, Engineers and other young people of India started working in this field overseas. This opportunity helped young people to change their life and helped the Country's Economic Scenario. And helped companies like TCS, Wipro, HCL and much more campiness's Success and Growth. 
Today, you cannot imagine that without Indian Professionals Software Industry can survive. These professionals and companies bring revenue of about 700 Billion Dollars that is about 5 Lack Crores or more to our nation. This is about 1 / 4th of our Indian Economy. Now, the next revolution is 3D Printing Technology maybe 10 times bigger. 
This training program is online-based learning, wherein Participants who enroll and clear the certification exam of 3D systems Corporations will get an assured domestic paid internship by USI3DT. 
This course will,
Help to handle 3D Printer FDM, DLP, SLA,
Provide hands-on training on Figure 4 , Design & Slicing Software
Develop skills in 3D Scanning Technology and Application
Provide understanding on Reverse Engineering: Software, Hardware and Application
Explain about Industrial Inspection: Software, Hardware & Application
We hope that you will gain the required knowledge from this program and demonstrate the skills learnt.
All the best!
Course Outcomes

50% started a new career after completing these courses

46% got a tangible career benefit from this course

17% got a pay increase or promotion

Digital certificate of completion
Industry Recognized Certificate
Complete all the modules successfully, including the course-end examination and project work to earn the prestigious certificate from 3D Systems.
Earn a joint certificate from EduBridge, Futuready, USI3DT USA and 3D Systems USA.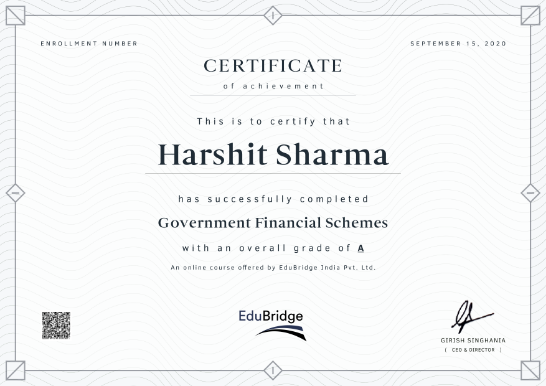 Frequently Asked Questions
All the free Courses are accessible to anyone. However, please check the eligibility criteria given in the Courses and enroll as they are designed based on the user's requirement.
Ans: Unfortunately we do not have installment facility available in any of our courses right now. However you can pay via credit card and avail easy installment service with your bank.
Once you have enrolled, we do not have the option to undo your enrollment. We follow a No Refund - No Transfer Policy - No Exchange Policy.
You can connect with the Support Team in the following ways : - By raising a Ticket from your Login Page via clicking the Help option. - Write to us on wecare@edubridgeindia.com, or call us on 18001201193. - Connect via chat or WhatsApp on our website.
Ans: If the course you are taking is a Master trainer lead course, he/she will be more than happy to solve all your queries and doubts during the class.
We believe, we are quite user-friendly! - Choose from Learner, Trainer, and Working Professional - Click Explore All Courses. - List of available Courses based on the selection will be visible - Select the type of study you are interested in • Learn by Yourself • Learn with a Master Trainer • Learn at the Academy