About the Program
.EduBridge has collaborated as a knowledge partner with Government College in Nurpur, Chamba and Dharamshala in Himachal Pradesh to run the Bachelor of Vocation programme. 
BVoc is an upcoming course in India, which is intended to incorporate specific " Job Role Based Skill Training" along with the general education in universities and colleges. It is a degree course, which is more focused on practical based learning rather than theoretical studies. 
The programme aims to ensure that the students have adequate knowledge and skills so that they are work-ready after the programme is completed.
This course will,
Help you to learn about the values of great salesmanship and key activities that every retail sales associate needs to execute to be successful
Make you discover and practice the activities required to make the customer comfortable in the store and with the sales representative
Help you to describe the various selling and service models and how they impact customer satisfaction
Enhance your understanding to execute the feature, function, benefit method of presentation, and how to motivate the consumer to buy
Guide you to uncover and practice the process for uncovering customer needs and potential objections to the sale through the use of lifestyle question
We hope that you will gain the required knowledge from this program and demonstrate the skills learnt.
All the best!
Course Outcomes

.Internship for all students

.Placements for certified and interested students

.Certificate of completion
Course Eligibility

.Minimum educational qualification for admission should be 12th pass or equivalent from any recognised board or university

Reservation for SC/ST/OBC/PWD applicable for admission as per the national/state policy.
Syllabus
In this module you will learn about the retail store operations, Process credit applications for purchase also health and safety at the store. The module also covers the importance of team work and Team and Organizational Dynamic.
Study Content
Slideshow:
Introduction (Skill Paper-01)
In this module you will know consumer buying behavior and health them, which choose the right product. We will also learn how to maximize sell through product demonstration and by explaining the product feature and benefits.
Study Content
Slideshow:
Consumer Buying and Behaviour (Skill Paper-02)
In this module you will learn and follow the method of creating a positive image Create positive Image of self and organization in customer's mind. You will learn the techniques of monitoring and resolving customer concern and further promoting continues improvement in and post sales service and build long team customer relationship
Study Content
Slideshow:
Customer Service and Customer Relationship Management. (Skill Paper-03)
Programming Languages and Tools Covered















Industry Recognized Certificate
EduBridge's programs are designed to offer learners a pathway to placements and its certificate is an official credential for the learners.
On satisfying the attendance criteria requisite and by successfully clearing the assessments with a 50% score and above, learners will be awarded a Certificate of Achievement.
Learners who are unable to clear all the assessments and have scored less than 50% but fulfilled the attendance criteria will be awarded a Certificate of Completion.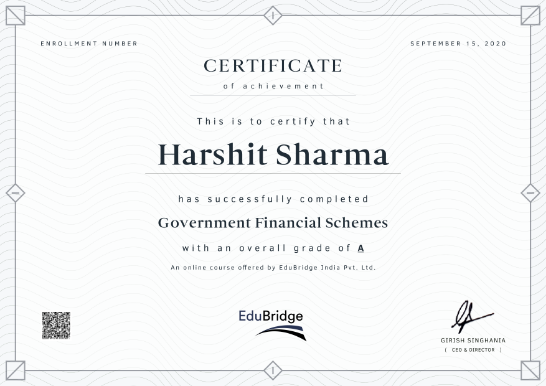 Frequently Asked Questions
All the free Courses are accessible to anyone. However, please check the eligibility criteria given in the Courses and enroll as they are designed based on the user's requirement.
Ans: When you complete a paid Learn by Yourself course, for most of them, you will receive a certificate of participation, which you can share on LinkedIn/other social media. Certificates will help demonstrate your accomplishments.
Ans: Our courses or trainings can run on most IOS and Android devices with minimum ram of 1 GB.
Assessments are already scheduled as per Course schedule and requirements and are visible to you in "My Courses" section. These will be activated by your Trainer post completion of the sessions. Once the Assessments are activated, you will get a notification on your "My Calendar" option about the same.
To join live classes, you will need to enroll in the Courses associated with Learn with a Master Trainer. You will find the daily schedule and training link in "My Calendar" option in your login.
- Click on "Go to My Account" - Click on "Go to My Profile" - You will be able to review your Profile.
Ans: Go to registration, click on resend email confirmation.