Course Highlights

Professional Skills

Build a Strong Foundation

Interactive Content

Flexible Schedule

1000+ Learners
About the Program
Learn the general concepts of financial markets and investing in stock investment course. You will see the difference between primary markets and secondary markets and learn about different investment products. This financial market course is designed keeping all kinds of learners in mind, who wish to learn about finance. It helps to learn about the basics of investment. After completing the stock investment course, you will feel more confident about financial markets and ready to go to the next stage in this domain.
This course will,
Help you learn the basic concepts of financial markets, investments and investment products.
Determine well-known methods of investing, which include- Value Investing and Growth Investment.
Determine the concepts of the stock market and jargon used in the stock market
We hope that you will gain the required knowledge from this program and demonstrate the skills learnt.
All the best!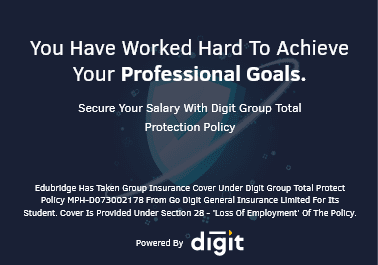 Frequently Asked Questions
We are working hard to provide you this, but currently this facility is unavailable. We will keep you updated on the same.
When you complete a paid Learn by Yourself course, for most of them, you will receive a certificate of participation, which you can share on LinkedIn/other social media. Certificates will help demonstrate your accomplishments.
There is no limitation to enroll for any EON courses. The only requirement is to plan your time and decide on the number of courses you want to continue.
There is no limitation to enroll for any number of Courses. You should plan your time and accordingly decide on the number of Courses.
This could be due to several reasons. Try the below options: - Clear the Browser (Chrome/Firefox/Edge/Internet Explorer) Cookies and Cache memory. - Restart the Browser and try logging in once again.
"Badges are the digital awards to display your skills and knowledge. It is issued to you at every stage of your Course/ Quizzes/ Assignment/Assessment completion. Yes, you can share these Badges on social media, with friends or family members."
Ans: E-ON offers three ways of learning. - Learn by Yourself - 100% self-study at your own pace - Learn with a Master Trainer- 100% live training program with our Master Trainers - Learn at the Academy- Blended training (Live Online training + Classroom Training)
You can find Courses to enroll on the website and in My Account - Explore All Courses after you have created your Profile.
If you click the tabs in the modules, before the completion of instructions, the voice-over will get overlapped. Please listen to the instructions completely and click on the tab/ next button.
We believe, we are quite user-friendly! - Choose from Learner, Trainer, and Working Professional - Click Explore All Courses. - List of available Courses based on the selection will be visible - Select the type of study you are interested in • Learn by Yourself • Learn with a Master Trainer • Learn at the Academy