About the Program
The CompTIA Network+ Certification is an internationally recognized validation of the technical knowledge required for foundation-level IT network practitioners.
The CompTIA Network+ Certification will verify, if the successful candidate has the skills required to implement enterprise-level wired and wireless network solutions, identify and troubleshoot network performance issues and harden networks against threats to mitigate security vulnerabilities.
EduBridge as a knowledge partner with CompTIA offers CompTIA Network+ program that includes,
Cert Master learning materials
Cert Master labs
Cert Master practice/ mock assessments
CompTIA exam voucher
In this certification, you will learn the latest networking technologies available, various networks and networking protocols, identify VPN and VLAN features, DNS concepts, and implement wireless networks. The training will make you competent at understanding the networking dynamics of different organizations and complete the certification.
To complete the program, you will need to actively participate in training to launch your career in network. By the end of this program, you will be able to provide expertise in computer networking concepts at both theoretical and practical levels.
This course will,
Enable learners to explain primary networking concepts on network services, physical connections, topologies and architecture with cloud connectivity as well
Enable learners to implement router configuration, deployment of Ethernet and wireless devices
Enable learners to manage and monitor networks and availability on networks
Enable learners to manage and apply preliminary mitigation methods on network attacks and vulnerabilities
We hope that you will gain the required knowledge from this program and demonstrate the skills learnt.
All the best!
Course Outcomes

85% learners started a new career after completing these courses

75% got a tangible career benefit from this course

60% got a pay increase or promotion
Education Criteria:



Anyone with IT/CSE/Networking background who is preparing for a network technician position

Anyone with IT/CSE/Networking background looking to improve their skills and become CompTIA Network+ Certified

Graduates from the IT/CSE streams who would like to add additional skills to their profile

Professionals from IT/CSE with a minimum of 2 years of experience
Infra Requirements:



Laptop/Desktop with webcam is mandatory

Configuration preferred: 8GB RAM with 500 GB HDD

Good speed Internet is mandatory
Syllabus
Get started and advance your career growth with the most in demand technical program, developed by leading industry experts based on real insights and hiring in top tech companies.
Syllabus
Get started and advance your career growth with the most in demand technical program, developed by leading industry experts based on real insights and hiring in top tech companies.
Syllabus
This mdoule will explain the purposes and uses of ports and communication protocols, OSI layer, concepts and characteristics of various network traffic and broadcast domains, methods of signal propogations, segmentation, routing protocols and types of routing, switching techniques, IPv4 and IPv6 concepts, type of public and private domain networks, IP classification and concept of DHCP and provide a scenario for configure the appropriate IP addressing components. further module summarize cloud concepts and their purposes including cloud model, services deployments and various service roles. It also explain the functions of network services including DNS and DHCP servicea and Host management services.
Study Content
Slideshow:
Networking Concepts
In this module learner have experience for deploy methods and the appropriate cabling solution for different vandors with various ports, placement of networking devices on a network and install/configure them, virtualization and network storage technologies. WAN technologies, service types transmission media, characteristics, and terminaton of circuits
Study Content
Slideshow:
Infrastructure
This moduleit will explain appropriate documentation and diagrams to manage the network. compare and contrast business continuity and disaster recovery concepts includin availibility, and recovery under cold and hot site management. common scanning, monitoring and patching processes and summarize their expected outputs. use of remote access methods. Identify policies and best practices.
Study Content
Slideshow:
Network Operations
In this module it summarize the purposes of physical security devices niclusing biometric and physial sensing devices also explain authentication and access controls. it provide approaces for secure a basic wireless network and to configuring them with various vandors configuration matrices it offers to understand varoius attack types and recognization methods and to mitigate them. also explain various definations and descriptions of attackes, vulnerabilties and malfunctions.
Study Content
Slideshow:
Network Security
This moule will explain the network troubleshooting methodology covering the error identification, rectification, OSI restructuring T-B-T approach, provide appropriate tool for various network scanning and manageing commands with LINUX/WINDOWS OS. Troubleshoot common wired connectivity and performance issues. Troubleshoot common wireless connectivity and performance issues.
Study Content
Slideshow:
Network Troubleshooting and Tools
Certificate
The CompTIA Network+ Certification is an IT certification exam that verifies if you have the essential knowledge and skills in networking to develop a career in IT infrastructure
Learners who want to be CompTIA Network+ Certified must pass the exam.
The exam details are - number of questions: maximum of 90 questions, duration of the exam: 90 minutes, passing score: 720 (on a sale of 100-900)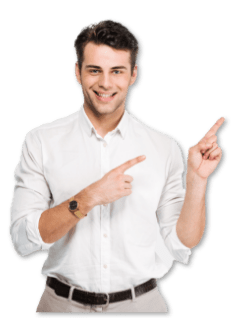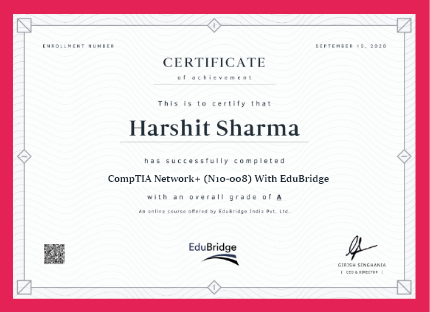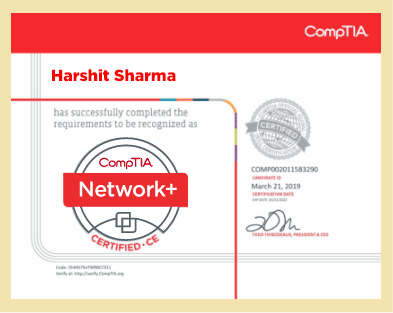 Make Your Own Plan
Step 1

Select the Batch of your
preference
You have complete control over your study schedule, be it the days in the week or hours/day.
Step 2

Pay the Enrollment
Fee
Pay the amount and you are done! Start your journey towards your professional goal immediately.
Frequently Asked Questions
You must have a minimum of 60% attendance in the online classes to be able to utilize the services offered under the Interview Guarantee and Job Guarantee programs.
Please raise a ticket in WeCare and our spoc will reach out to you and guide you on the same.
You will receive the learning content, pre-configured labs, practice exams and voucher to take up the certification.
You will be required to submit your PAN card, AADHAR details, Marksheets of 10th, 12th and Graduation, Supporting educational certificates and any other requirements as mandated by the recruiters.
Once you have done the payment and registered with us, the access to CompTIA official learning contents will be shared. These materials are updated periodically by CompTIA and will help you prepare for the certification.
On completion of the certification with the required passing criteria, the certificate will be provided by compTIA and Edubridge.