Course Highlights

Build a Strong Foundation

Professional Skills

Hands-on application of tools

Flexible schedule

1000+ Learners
About the Program
This 5 hours program is specially designed for you to start with the basics of RDBMS and MySQL, like querying data using different commands to shape results. Next, you will learn to create and modify the data in your tables. By the end of this course, you will be able to formulate data questions and inform strategic decisions using MySQL queries.
This course will,
Demonstrate the need to use a database
Guide us on creating and updating databases using basic commands
Help us to use triggers, views, and stored procedures
Describe database users and security.
We hope that you will gain the required knowledge from this program and demonstrate the skills learnt.
All the best!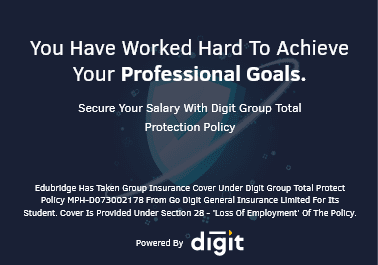 Frequently Asked Questions
We are working hard to provide you this, but currently this facility is unavailable. We will keep you updated on the same.
When you complete a paid Learn by Yourself course, for most of them, you will receive a certificate of participation, which you can share on LinkedIn/other social media. Certificates will help demonstrate your accomplishments.
Once you register and complete your Profile, you will be prompted with the Courses that suit your interest. Visit the Course catalog to Browse our offerings. In addition to searching by Course duration and availability, you can also search by subject to ensure you find a Course that reflects your interests.
There is no limitation to enroll for any number of Courses. You should plan your time and accordingly decide on the number of Courses.
The content is developed in other learning tools. Since it's not a video file, the content will get paused only after a topic. completed.
"Badges are the digital awards to display your skills and knowledge. It is issued to you at every stage of your Course/ Quizzes/ Assignment/Assessment completion. Yes, you can share these Badges on social media, with friends or family members."
Ans: E-ON offers three ways of learning. - Learn by Yourself - 100% self-study at your own pace - Learn with a Master Trainer- 100% live training program with our Master Trainers - Learn at the Academy- Blended training (Live Online training + Classroom Training)
For any Course material, please - Click on "Classroom" on the left side panel - Click on "Resources" - Click on download to read the material while you are offline"
If you click the tabs in the modules, before the completion of instructions, the voice-over will get overlapped. Please listen to the instructions completely and click on the tab/ next button.
We believe, we are quite user-friendly! - Choose from Learner, Trainer, and Working Professional - Click Explore All Courses. - List of available Courses based on the selection will be visible - Select the type of study you are interested in • Learn by Yourself • Learn with a Master Trainer • Learn at the Academy